Who is online?
In total there is
1
user online :: 0 Registered, 0 Hidden and 1 Guest
None
Most users ever online was
23
on Sun Apr 12, 2015 1:53 am

The day was beautiful, scattered with clouds and and the sun "standing" proudly in the middle of it all, casting down sunlight onto Feronia. People and Pokemon walked by, some casting each other smiles, some battling and others exploring. The wind blew, passing daffodils and grass, gently ruffling them. Starly and other Flying type Pokemon flew together happily in the sky, casting down shadows below. A few Pokemon popped out from hiding and watched as trainers walked by.

Although this was an amazing day, Belle had no time to dilly dally.

She had recently arrived on Feronia, and she loved every second of being on the boat. The only fault was that her ship - believe it or not - was late. And she had NO time to be late! She needed to find her best friend as soon as possible, but without a Pokemon, she was helpless. Nurse Joy wouldn't allow her to catch a wild pokemon, so Belle planned to get one at the Lab.

The girl hurried towards the Laboratory, occasionally knocking into things and apologizing quickly. She had scheduled a meeting with a professor but was not sure if they remembered. But if they did, she was ten minutes late. What a bad first impression! Belle couldn't stand the thought of being any later, so when she arrived at the lab the girl was out of breath and spoke hurriedly. "I'm here, I'm here! Sorry I'm late, the ship was late too, and I came as fast as I could. Sorry again! You remember my appointment, don't you?"
A boy came out from the back of the lab. "Oh you must be Belle." The boy put his hand out. "I'm Nate. Pay no attention to the girl who doesn't care about anything but that magazine or to the man weeping over how she let the two rarest pokemon go." Nate pointed at the professor and Maddie. "Anyways. I assume you're here to get a starter pokemon?" He led Belle to a computer. "This is the computer that shows the starter pokemon you can have. Choose any one we have!"
Belle smiled as she regained composure and shook Nate's hand. "The One and Only!" she grinned. She glanced at Maddie, who was completely absorbed in the said magazine, and the weeping professor. "Don't worry," Belle giggled. She followed Nate over to the computer and her mouth fell open.

"Sounds easy!" she looked surprised at how simple it was. The girl scrolled through the list, looking at the Pokeballs and images of the Pokemon on top of it. She smiled at each one and stopped at a certain one. She couldn't scroll away from it and knew it was for her. The 16-year old grinned and said, "That one! I'll take the Lillipup!"
"Lillipup huh? Okay number 506..." Nate walked over to the shelves and looked around on them. "503 ,504, 505. Ah there we go! 506, Lillipup!" He grabbed the pokeball and handed it to Belle. Also as part of your starter, we throw in 5 pokeballs to help you catch more. And a pokedex of course." Nate hand Belle a bag with the pokeballs and a pokedex. "So that's it. Anything else?"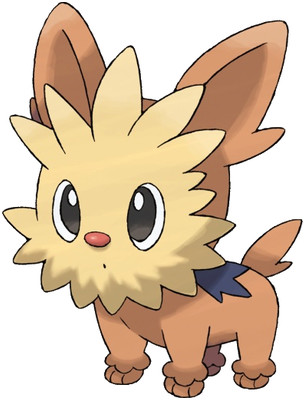 Name:
Lillipup (Would you like to give this pokemon a nickname?)
Level:
5
Gender:
Female
Moveset:
Tackle
Leer
Odor Sleuth
Nature:
Trainer's Choice
Last edited by MexterInfinite on Thu Jan 24, 2013 11:40 pm; edited 2 times in total
Belle looked giddy as Nate searched for her first Pokemon. She couldn't wipe the smile off her face and hugged the Pokeball when it was handed to her. "Thanks, Nate." The girl continued to grin. The smile slightly faded when she saw the Pokedex and Belle tilted her head. "What's this?" she asked, reminding herself to buy a bag soon.
Last edited by 32Melody on Fri Jan 25, 2013 6:19 pm; edited 1 time in total
"Oh the pokedex? Well the professors of the regions have made this mobile computer. It helps record the pokemon you meet." Nate sat down in a chair. "So that's it. See ya!" Nate went back to work.
Belle was rushed out and almost dropped her things in the process. She blinked as the door closed behind her and the 16 year-old looked through the top of the Pokeball. The Lillipup looked back at her with a smile and Belle grinned. She thought for a moment before deciding to name her later. The girl smiled and went off towards Route 1.

[ xD Thank ya Mex~ ]

---
Permissions in this forum:
You
cannot
reply to topics in this forum